Stylish fee-free EFTPOS solutions.
Available in two colours, Zeller Terminal is a fee-free EFTPOS solution that looks good everywhere.
Get started free
How Zeller stacks up against other fee-free EFTPOS providers.
We never charge you extra for switching on fee-free EFTPOS, and won't lock you in to a contract, either.
Sign up free
| | | |
| --- | --- | --- |
| No minimum turnover | Yes | No |
| No lock-in contracts | Yes | No |
| Sign up in 5 minutes | Yes | No |
| No terminal rental fees | Yes | No |
| Mobile hotspot, SIM card and 
Wi-Fi connectivity | Yes | No |
| Customisable surcharge 
amount | Yes | No |
| SMS & email receipts | Yes | Yes |
| POS-integrated EFTPOS | Yes | Yes |
| Access live support in < 5 
minutes | Yes | No |
No more transaction fees.
There are no hidden fees. PCI compliance, chargebacks, termination, terminal rental fees and more — everything is included.
Connect Zeller Terminal
with your preferred point-of-sale.
Zeller Terminal seamlessly integrates with over 600 point-of-sale solutions, delivering you a fast and secure customer checkout experience.

Learn more
Faster transactions, smarter functionality.
Multiple receipt types — Print customer receipts or send electronically via email or SMS.

Easy refunds — Process refunds without the customer's card in hand, with no additional fees.

Central fleet management — Update and apply settings across every terminal in your business.

Manage your employees permissions — Protect business and financial information with one click.

Prompt customers to leave a tip —

Increase employee tips with an automated tipping prompt, right on the payment screen.

Powerful reporting tools —

Access real-time data with a searchable transaction log from your desktop and Zeller Terminal.

Keep your business connected —

Insert a SIM card, or connect via Wi-Fi or personal hotspot.

Security that protects you —

PCI-DSS certification, end-to-end encryption, and 24/7 real-time transaction monitoring.
Stay connected with Zeller SIM Card.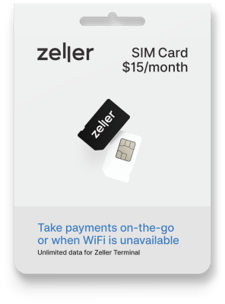 Connect Zeller Terminal to Wi-Fi or a personal hotspot, or pop in an optional Zeller SIM Card for reliable back-up coverage.
Take payments anywhere you do business.

Affordable coverage at $15 a month, with no lock-in contracts.

Protection against excess data charges with unlimited data.

Powered by Optus, with 98.5% coverage and reliable connectivity.

Use your SIM Card as back-up for Wi-Fi downtime.
Learn more
Smarter EFTPOS with no hidden fees.
Many other fee-free EFTPOS solutions will sneak in hidden charges. Use Zeller's automatic surcharge to recover your cost of acceptance in full — at no cost to your business.


Learn more
Transaction fee
0%
Your customer's surcharge covers your transaction fees.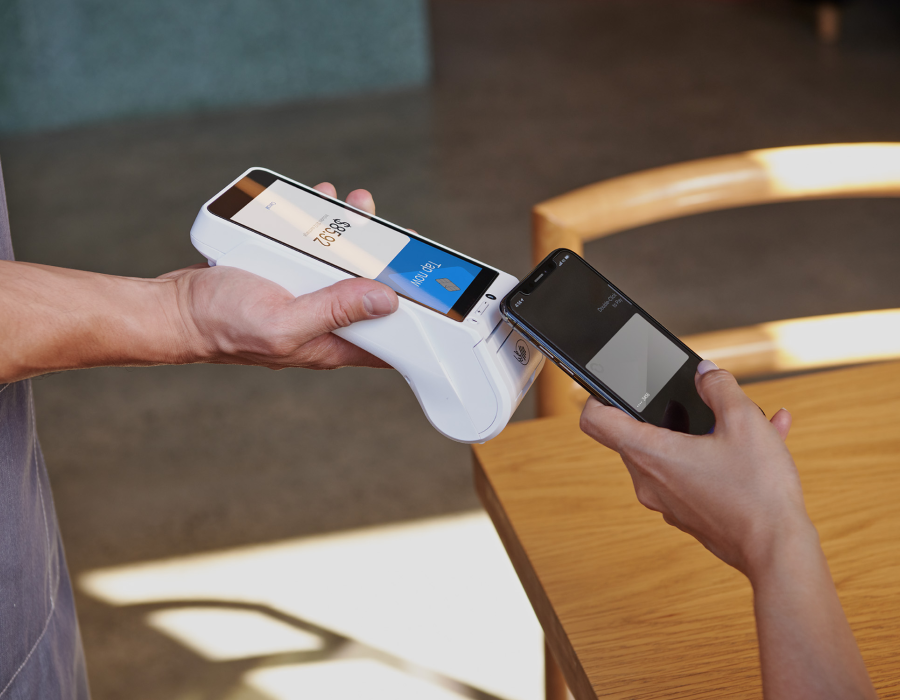 Customised pricing for bigger businesses.
Process over $250K in card payments annually? Let us design a custom surcharging solution that works for your business.


Phone 1800 935 537
Monday to Friday
9 AM to 5 PM Australian Eastern Time
Leave your details, we'll be in touch

The Zeller Guarantee
Try Zeller, and if you don't love it you can send it back to us at no cost — we'll refund your purchase price immediately.
Learn more
Fast help when you need it.
Frequently
Asked
Questions
How can I avoid EFTPOS fees?
Who is eligible for zero-cost EFTPOS with Zeller?
Will I have to pay a service fee with fee-free EFTPOS?
What if a customer does not want to pay the surcharge amount?
Learn more about flexible, fee-free EFTPOS