Zeller EFTPOS Pricing
How much does Zeller cost?
Every card, one low rate.
Pay just 1.4% per tapped, inserted or swiped transaction for every card type. No hidden fees, no surprises.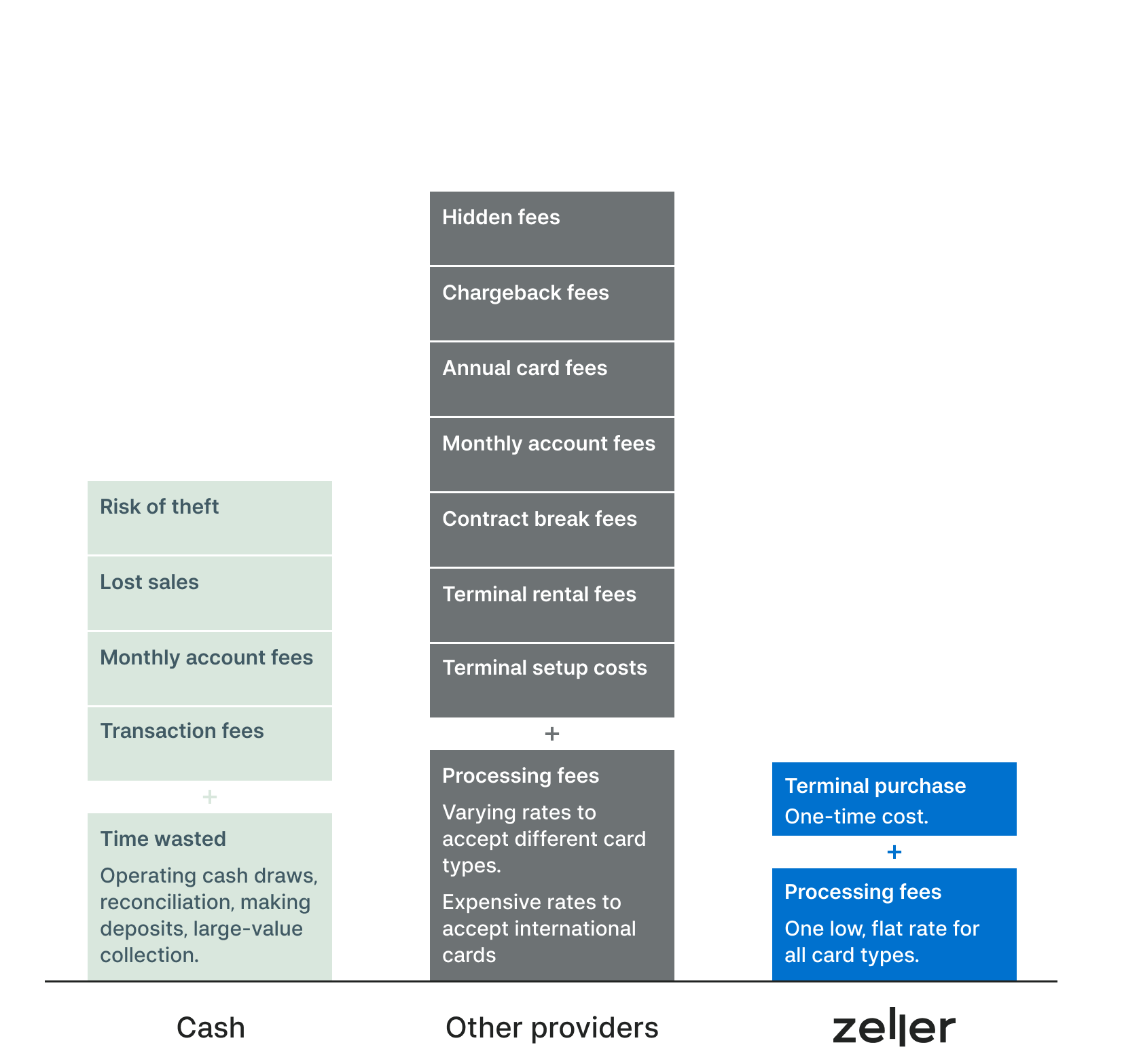 Understand your real cost of card acceptance.
Many merchant services providers will charge you expensive monthly terminal rental costs, account fees, and sneak in hidden costs.
Zeller's pricing is transparent and fair, so you'll always know exactly what you're paying.
Choose to apply a surcharge (fee-free EFTPOS) to pass the cost of acceptance on to your customers.
Sign up free
Contact sales
More value for less
With Zeller, you'll benefit from more support and resources to help your business grow at no additional cost.
Free Zeller Mastercard
Spend money using your free business Mastercard, with no annual fee or fees on domestic purchases.
Zeller Transaction Account, free
Your Zeller Transaction Account is included free at sign up. It's instantly ready, with no additional paperwork.
No refund fees
Customers are refunded the full purchase value — and you'll be refunded your processing fee, too.
Flexible settlements
Sweep funds to any bank account, or access faster by settling in to your free Zeller Transaction Account.
Local support
Fraud prevention
Our dedicated fraud prevention team works 24/7 to monitor transactions, protecting you and your business.
Dispute management
If a chargeback occurs, we'll work with you on dispute resolution — and won't hit you with a chargeback fee.
Custom rates for larger businesses.
If you process over $250K of card transactions annually, you may be eligible for a custom rate. Call us to speak with Zeller Sales about designing a custom solution for your business.


Leave your details, we'll be in touch
Frequently
Asked
Questions
How much does Zeller EFTPOS machine cost?
Where can I purchase Zeller Terminal?
Does Zeller have any ongoing monthly fees?
Is there a minimum amount required to process each month to avoid additional EFTPOS fees?
Are there any fees for transferring funds to my third-party bank account?
Is there an additional cost to accept American Express cards?
How much do Zeller Mastercard and Zeller Transaction Account cost?
Does the 1.4% transaction fee include GST?
Does Zeller Terminal accept Diners Club?
Does Zeller Terminal accept UnionPay?
What's the best rate you can offer my business?
Can I do MOTO payments with Zeller Terminal?